In 2012, the Vermont Legislature unanimously passed Act 148, a universal recycling and composting law that offers Vermonters a new set of systems and tools for keeping organic matter out of the landfill. Repurposes waste not being converted into compost, fertilizer, or other value products are all resources that hold potential energy that can be developed in a sustainable way to power a local economy. The University of Vermont is offering two bioenergy courses for the Fall 2016 Semester: Biomass to Biofuels – Bioenergy & Byproducts and Universal Recycling Law – Vermont Act 148 Community Connections
Universal Recycling Law – Vermont Act 148 Community Connections will explore community development connections for the creation of energy and valued products from universal recycling of organic materials. It will provide a broad appreciation of the technical, economical, political and environmental challenges with universal recycling. Biomass to Biofuels – Bioenergy & Byproducts will explore the sustainable and responsible production for small to community scales of bioenergy.  An online Bioenergy Professional Certificate course is also being offered during Summer 2016. The course will focus on clean, sustainable bioenergy such as, bioelectricity and biogas production from dairy manure and food waste streams. This eight-week course is comprised of seven sub courses, ranging from bioenergy technologies to bioenergy related economics, environmental and social issues
All of the courses will be taught by Anju Krivov, cofounder of General Systems Research, lead biofuels instructor at UVM's Rubenstein School of Environment and Natural Resources and a Vermont Bioenergy Initiative algae for biofuel grant recipient. They will focus on the sustainable and diverse sources of energy that can be used to create a resilient bioenergy industry.
For more information about these courses visit the course website or email anju.krivov@uvm.edu. Register online or contact the Registrar's Office.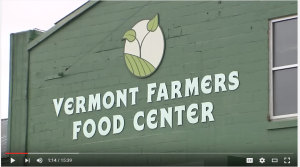 UVM Extension and the Vermont Bioenergy Initiative supported the installation of a multi-source biomass fuel boiler at the Vermont Farmers Food Center in Rutland, Vermont. The boiler uses several alternative fuels, such as wood pellets and grass biomass pucks, to displace propane and heat the 4,200 square foot space, home to the Rutland Winter Farmers' Market and a variety of food system educational program and events. The biomass project demonstrates the economic advantages when compared to typical propane heaters, including a much smaller payback period (roughly 2-8 years) when using biomass fuel sources. Chris Callahan, a UVM Extension Agricultural Engineer, directed the project and worked closely with the Vermont Farmers Food Center to fit a biomass fuel boiler for the space specifications.
Check out this video featuring the project on Across the Fence, the longest-running locally-produced program in the US: